Hughes Auto Group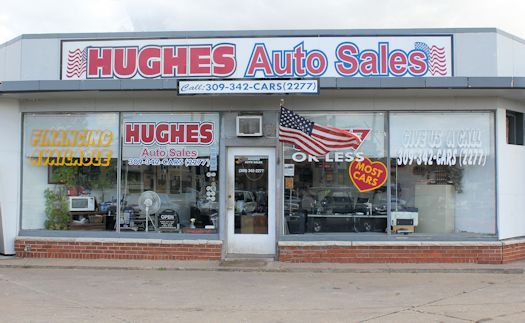 In April 2004, a long-held dream became a reality when the present location became Hughes Auto Sales.
Russ Hughes started in the automobile business at the age of sixteen.
Over the years he has worked in every aspect of the car business from parts to sales to service.
Andrew Hughes joined his father to become the fourth generation to work in the automobile business.
Russ and Andrew offer quality used cars at affordable prices. If they don't have it, they'll find it for you.
Russ and Andrew know how to make your buying experience pleasant.
Stop in and see them at Hughes Auto Sales, corner of Main and Grand in Galesburg, IL.
On July 5th, 2013, Russ opened a second location in Galva, IL. Andrew is currently handling the day to day operations. Hughes of Galva is located at 800 SE 2nd Street (Route 34; the former Cokel's Building) in Galva, IL 61434-1578. Contact Andrew at (309) 932-1777 or fax us at (309) 932-1107. GalvaCars.com.